Silicon Valley is known as the global hub of the technology industry and a region blessed with considerable wealth. If it was a country, Silicon Valley would be among the world's richest, judging by its GDP per capita.
However, not all residents have benefited from this affluence. Silicon Valley and the Bay Area have among the highest housing costs in the nation, and homelessness has reached crisis levels.
Covid-19 represents another crisis—one that is especially dangerous to Silicon Valley's unhoused population. That's why the work of organizations like LifeMoves is so important. This nonprofit helps people experiencing homelessness by providing temporary shelter and helping them find secure, stable housing.
LifeMoves is committed to ending homelessness in Silicon Valley.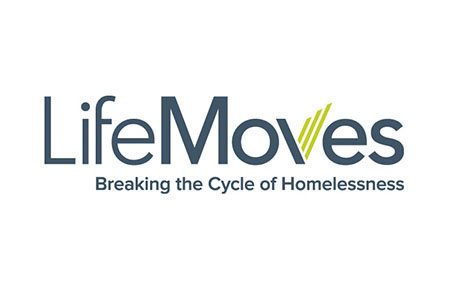 Throughout 2019, LifeMoves programs helped more than 2,100 people return to stable housing. On any given night, the nonprofit provides food, shelter, clothing, and vital services to 950 clients across the Bay Area.
Operating from 23 service sites and shelters from San Jose in the south to Daly City in the north, LifeMoves provides people experiencing homelessness with short-term lodging. At the same time, they offer intensive, customized case management through community outreach and shelter programs. All told, LifeMoves helps 9,350 men, women, and children return to secure housing and long-term self-sufficiency every year.
The homeless community is particularly susceptible to Covid-19.
People experiencing homelessness are more likely to be older, male, and have several existing health problems—all risk factors for Covid-19. This means that this population is particularly vulnerable to contracting Covid-19 and suffering severe symptoms of the disease. A Yale School of Medicine article states that Covid-19 is 10 times more deadly in the homeless community than the rest of the general population.
Providing care to people experiencing homelessness throughout the Covid-19 pandemic is vital. As Emma Lo, Assistant Professor of Psychiatry at Connecticut Mental Health Center explained in the Yale article, people who are unsheltered (those who live on the streets and in parks and encampments, for example) need more than just physical treatment. They need access to effective mental health care. In the Yale article, she explains that outreach program patients were deeply affected by the crisis, both because of their inherent vulnerabilities and also because of changes to healthcare services caused by the pandemic.
In addition, social distancing policies such as keeping six feet apart can be challenging to comply with in public spaces like shelters or camps. People experiencing homelessness often have little access to handwashing or hygiene products. They must use public bathrooms. Without a home, they cannot isolate. In addition, the majority of people experiencing homelessness lack access to face masks.
LifeMoves' operational costs have risen sharply due to Covid-19.
The organization reports that its emergency response to Covid-19, which has already cost hundreds of thousands of dollars, continues to increase in cost exponentially.
LifeMoves has called upon the local community to support its Emergency Relief Fund by making donations, holding fundraisers, and sponsoring and providing meals. In addition to cash donations, LifeMoves calls for donations of much-needed items that are in low supply, including:
Masks
Clorox wipes
Sanitizing spray
Baby formula
Face shields
Gloves
Toiletries
Sneeze guards
Adult incontinence products
Donation drop-offs are currently by appointment only via the LifeMoves administrative offices in Menlo Park.
LifeMoves invites members of the Silicon Valley community to volunteer from home.
Although the organization is currently unable to host volunteers at its shelters, the need remains. Volunteers can still make vital contributions to LifeMoves from the safety of their own homes by fundraising, hosting donation drives, making face masks, sponsoring meals, or even making no-sew fleece blankets from special kits.
As CEO Bruce Ives points out, LifeMoves is committed to keeping clients safe.
Every day, the organization delivers vital services and safe shelter to individuals and families experiencing homelessness. That has continued, even in spite of the ongoing pandemic. In an open letter published on the organization's website, Ives underlined the steps LifeMoves had taken to protect its clients and 285 staff members during this time. These include:
Modifying volunteer meal programs.
Postponing shelter-based volunteer events.
Implementing increased sanitation protocols, such as increasing supply of soap, hand sanitizers, and disinfectant to all sites.
Enhancing cleaning cycles at all sites.
Providing face masks at all sites.
Enhancing safety protocols.
Unfortunately, as a result of the pandemic, LifeMoves was forced to cancel its annual Thought Leadership Luncheon in March 2020.
LifeMoves is working with other organizations in the region.
Working with local public health officials, LifeMoves staff have provided expertise specifically focused on the unsheltered homeless community. They have also provided advice regarding safety in public shelters. Additionally, the organization is sharing best practices and updates with community partners and other service providers.
In the current pandemic, the impact of LifeMoves is more important than ever.
The organization has served as a spark of hope for people experiencing homelessness in an extremely challenging time. LifeMoves calls on members of the Silicon Valley community for support in their efforts to keep the homeless community safe throughout the Covid-19 pandemic and beyond.